Natural gas transmission pipeline emergencies: Your key response strategies
Natural gas transmission pipelines comprise a complex network for moving gas across long distances. Although transmission pipeline incidents are rare, they often represent some of the most challenging situations that first responders may encounter. Because natural gas transmission pipelines transport large volumes of gas at high pressures, leaks in these pipelines can create very large and dangerous fires and explosions.
Emergency responders handle gas incidents on a regular basis, but these incidents generally involve small distribution lines. Responding to an incident from a natural gas transmission pipeline follows many of the same principles as responding to a smaller distribution pipeline leak; however, volume and high pressure combine to increase the scope and complexity of the incident.
Here are some of the key differences between transmission and distribution pipeline events:
Transmission lines are much larger than distribution lines and therefore contain more product volume.
Natural gas in a transmission pipeline is usually under a much higher operating pressure than that in distribution lines.
Unlike distribution-based natural gas incidents, you may not be working with the local gas utility. You may instead be working with a pipeline operator that manages the transmission line.
There are limited options to stop the release of gas. You will need to coordinate with the pipeline operator to resolve the incident safely.
Natural gas traveling through transmission pipelines typically lacks odorant, making it more difficult to detect. Monitoring the atmosphere is essential.
With transmission pipelines, many valves can be operated from remote locations. However, after a valve is closed, gas can continue to be released at the same rate for an extended period of time before tapering off and stopping.
Large quantities of natural gas from transmission line leaks can collect inside multiple buildings and confined spaces, causing a high risk of fire or explosion.
Given the quantity of natural gas that can be released, there is a greater likelihood of an asphyxiation hazard developing as oxygen is displaced.
If you were faced with a transmission pipeline emergency, how would you respond?
The following 10 steps can help ensure a successful response to transmission pipeline incidents:
Make sure your dispatcher informs National Grid or the local gas pipeline operator of the event and requests appropriate assistance.
Upon arrival, approach the scene with caution from an upwind direction, then assess the scene and confirm the pipeline location and fuel. In this situation, your goal is to minimize the level of risk to other responders, the community and the environment.
Designate an incident commander, create a unified command and work together with other responders to stay out of harm's way and secure the area.
Never allow first responders to operate pipeline valves.
Use the DOT Emergency Response Guidebook for initial evacuation and response guidance.
If ignition has not occurred, eliminate ignition sources.
Use communication tools such as social media and reverse 911 systems to protect the public. Employ a combination of rescue, evacuation and shelter-in-place strategies to reduce life safety risk.
Integrate the pipeline operator's emergency management personnel into the unified command structure, and work together to control the situation and mitigate damage.
Do not attempt to extinguish a gas-fed pipeline fire. Cool exposure and extinguish fires only after the fuel source has dissipated and control is confirmed by the pipeline operator.
Once the fire has been extinguished or the pipeline operator has controlled
the leak, monitor the atmosphere to establish the extent of vapor travel.
National Grid's free First Responder Utility Safety Training Program has helped thousands of emergency response personnel learn to operate safely during incidents involving utility hazards. This program, which includes gas and electric certification trainings, covers natural gas pipelines and electric power lines as well as other facilities.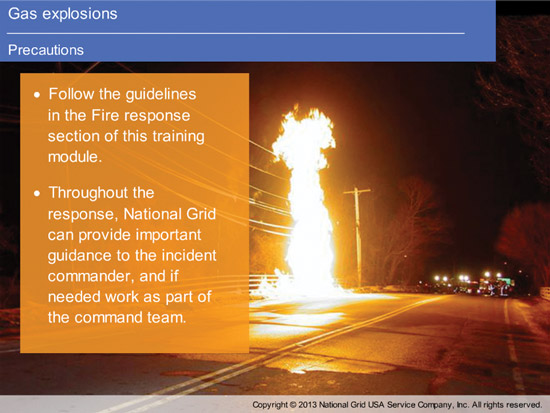 Sample screen from e-learning module 4: Gas incident management
Through this training, you will gain the knowledge, skills and technical ability required to respond to the most common natural gas emergencies. For example, module 4: Gas incident management addresses specific response procedures for gas leaks, fires and explosions.
Our certification programs are self-paced. Users who complete the gas and electric programs will earn personalized certificates of completion.
---
Keep yourself, your team and the public safe. Register today and complete your utility safety training. Visit firstresponder.ngridsafety.com.
| | |
| --- | --- |
| | Smell Gas. Act Fast. |
Massachusetts contacts

---

Gas emergencies:
1-800-233-5325 and 911

Electric emergencies:
1-800-465-1212 and 911

New York contacts

---

Gas emergencies:
Long Island and the Rockaways:
1-800-490-0045 and 911

Metro NY:
911 and 1-718-643-4050

Upstate NY:
1-800-892-2345 and 911

Electric emergencies:
1-800-867-5222 and 911

Rhode Island contacts

---

Gas emergencies:
1-800-640-1595 and 911

Electric emergencies:
1-800-465-1212 and 911